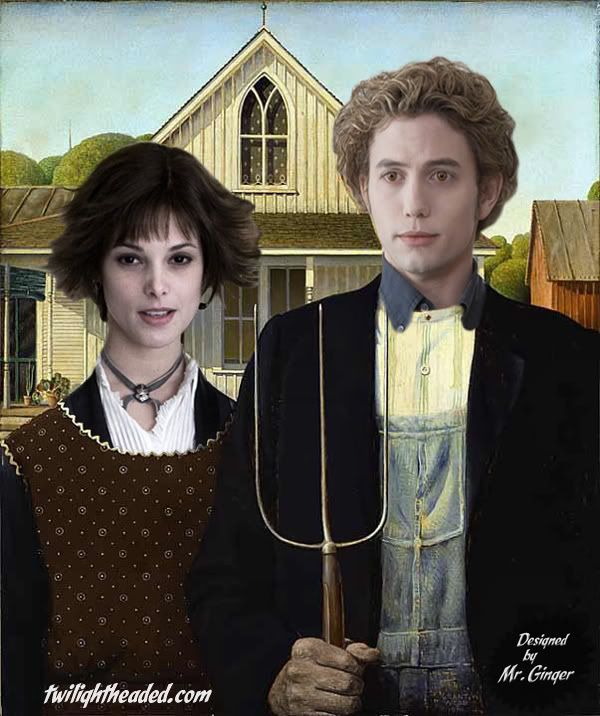 When I think about what was missing from the Twilight movie the two people that immediately come to mind are Jasper and Alice. I know there are time limitations in movies and you cannot capture everything but they all but left out TWO very important people in favor of Buttcrack Santa and the security guard at the mill.
Alice wanted so badly to be Bella's BFF and in the book you get a good view of their bond forming, and that foundation is pivotal for what's to come. She loves Bella and I felt that was never really established in the movie.
Even though Jasper didn't have much of a role in the book WHY oh WHY didn't they establish that he had the calming ability that helped Bella maintain her sanity while waiting in the hotel or allow him the opportunity to say ONE line that set the tone for how the family felt for Bella (Rosalie notwithstanding): "You're wrong, you know. I can feel what you're feeling now --- and you are worth it."
Through the entire series, Bella never could grasp what her worth was. It would have been nice to have her experience the love of Alice or hear the validation from Jasper, especially given what's to come and the roles they both play in the continuing saga.
Yes to more Alice! Yes to more Jasper! No to Buttcrack Santa! Spank, that's probably my favorite line of Jasper's from the book. I don't think I even noticed until the 3rd time I saw the movie that they left out Jasper's special Xanax powers. And how are they going to handle Alice and Bella's special bond in New Moon when it was never established in the Twilight movie?

I REALLY wanted the hotel scene to show Jasper's ability. Instead it looked like Alice had to keep him calm and

so it was easy for Bella to sneak away. Why couldn't it have been portrayed as a LITTLE more difficult to get away from your vampire babysitters?
Whenever I watch the DVD I have to take Xanax to help keep me calm through the dialogue and continuity issues. By the time you get to the hospital scene, you'll be so chill you won't even care about how lame the studdering is. Try it next time.
Hmmm... you have any extra Xanax to send my way? Because I want to try it while watching Twilight. You know, as an experiment. Besides, sending Rx medication through the mail shouldn't be such a problem since we now have Robin as our lawyer. Right Robin?

Hmm... My standby up to this point has been a gin and tonic and it really wasn't helping much. I'll have to try that too.
Am I the only one that doesn't have a supply of Xanax? Sigh. I need to find a new doctor. Or maybe I just need Jasper to watch the movie with me.
They totally dissed Jasper's ability and never explained it... that was bothersome because we never saw a tid bit of it until the hotel scene. And how come they were never "Hales" in the movie? They were all Cullens...
THAT'S why my pharmacist and Pharmacia Corp are getting rich! Not enough Jasper Xanax.
As far as Alice, it didn't bother me as much that she wasn't a big part in Twilight because she emerges so enormously in the rest of the series. Hopefully New Moon will depict that, if not, dear God. The biggest moment with Alice for me was in New Moon when Jake and Bella drove up to her house and the Mercedes was there. That was when I truly fell in love with the relationship between Bella and Alice and it became real to me.
That was also when I stopped e-mailing Ginger threatening to stop reading the book because it was then that I knew that dog's days were numbered.
It also signified the first of many scenes when I stopped feeling sorry for Jacob and started wanting to bitch-slap him.
Yeah, before then I just wanted to drop-kick him.