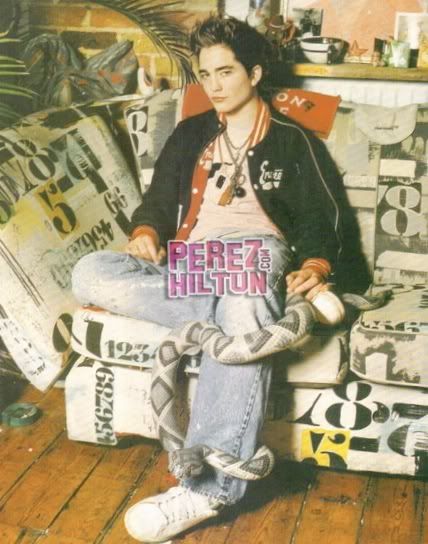 This week's Junior League Member is: Chryssa, all the way from Greece! (otherwise known as our beloved @sakixry)

Name: Dazzle
Power: She can blind everyone with her dazzling self.
Would you like Edward half as much if he wasn't a vampire? I believe that I wouldn't because:

a) If he wasn't a vampire, he would just be a shallow (ok... gorgeous but shallow...) teenage boy of 17 years and what would torment him would be his lust for Bella's body and not for her blood... And for sure he wouldn't try to resist...


b) He would not have this mystery on him. We weak and vulnerable women have a strange tendency to love mysterious men that hide secrets or bad boys although we know they will hurt us. We always believe that we are able to change them...

c) He would not be able to read everybody's mind (although this couldn't be too bad because if he would meet me some day... I would die of shame!) and also he wouldn't have his super strength and view and he wouldn't be fast.
Before we get to League business, I must say you have a beautiful name. Okay, now to answer your question. Mr. Spank is actually my true Edward. He isn't a vampire (though there are times when he sucks) and he's not all that mysterious and thank GOD he cannot read my mind. As someone who wasted more than enough years on "bad boys" I would hope that if I were to do it all over again I would have waited for my Edward -- even if we could not have forever.
I think if Edward wasn't a vampire, the fact that he's really 17 (and not 100+ years old) would really turn me off. Because I'm not into 17 year olds. Now if it's a 22 year old Robert Pattinson, well... that's a WHOLE different story!
In all seriousness I think we'd probably still find the

story

sexy in that "forbidden love" kinda way, and therefore we'd find Edward attractive. I'm sure no matter what the age of the character we'd all be envisioning Rob, though. I know I do.
If he was just a regular kid, I'm not so sure I'd be into him. He'd seem kinda like the creepy quiet kid in high school that stares at people and has no friends. Plus, how sexy is it that he keeps denying her the passion. The sexual tension is wonderful (and frustrating.) If they just did it and got it over with and he was a two second wonder (like any seventeen yr. old) it would kind of be a buzz kill. And lastly, was it not a huge turn on that he saved her life w/the van and then in Port Angeles. Most guys would be standing outside 7/11 trying to get older people to buy them beer instead of stalking their true love.
Well, if he wasn't a vampire would we forgive the "stalker" tendencies or would we run screaming? I know it wouldn't exactly be comforting to think of a 17 year old sneaking into your room and watching you sleep. Especially since we know what a 17 year old would we DOING while he watched you sleep.
*snicker*


Photo courtesy PerezHilton.com