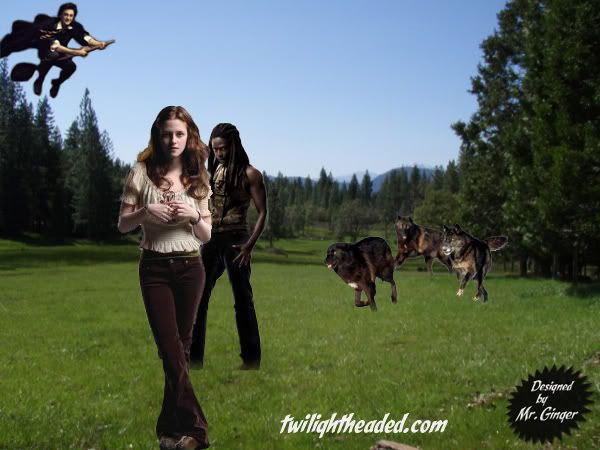 Ok, here is something in NM that's going to drive me batty. The meadow was such an integral part of the book script in Twilight (especially) and also in the New Moon book. In the Twilight film the meadow was a very small part and didn't have nearly the impact that the meadow had in the Twilight book. And I was disappointed when the movie came out because it was one of the most anticipated scenes for me.
One of the most heat racing parts of reading New Moon (after Edward left) was when Bella kept trying to get herself back to the meadow, to find him, to hear him again. But since "the meadow" never happened in the Twillight film there is no way they can make it happen in the New Moon movie, or if they do it won't have the depth that it had in print.
When she finally reaches the meadow in New Moon and he's not there... I was devastated. Perhaps they'll still do it because of Laurent and the pack, but it won't have the emotional impact on me as it did in the book. Thoughts?
My inclination is to say that they will have the scene but then Melissa Rosenberg is so good at doing things like "remove blood testing scene for lame greenhouse effect" and "rather than have Bella meet the family and have conversation, let's have a really awkward moment in the kitchen where Rosalie breaks a bowl while wearing leather gloves and the squirrels, I mean, Alice and Jasper enter through the window because that will SHOW the audience how quirky she is..."
What, you have an issue with compost tea and worms? Do I even know you?
*snicker* Who knows, with all the "lets take important things and get rid of them" festivities maybe Bella won't even go looking for Laurent in the Meadow. Maybe she'll do her nails while Jacob braids her hair in his garage instead. *rolling my eyes*
Or Bella can braid Jacob's wig hair.
Hmm... Maybe in the new script Laurent, Jacob, and Bella will have a tea party in the meadow and trade tips on living with their hairpieces. They can segue into "the fight" when the other werewolves show up and Jacob has to kick Laurent's ass to defend his manhood. Then Laurent dies, we find out Jacob is a werewolf, AND we get to skip the Jacob-tells-Bella-his-secret scene. (I know, I know, I'm brilliant.)
Or Jacob and Bella do it in the meadow, as it should have been with Edward!
*passing out from shock at what Spider just said*
Well, that would sure as hell show Edward for leaving.

Spider and Meadow, are you both insane? Have you utterly lost your minds? That's bestiality!
*gagging* Hmm... Stephenie Meyer is kinkier than I've given her credit for. After all, Bella "

can have puppies, if that's what it takes.

"