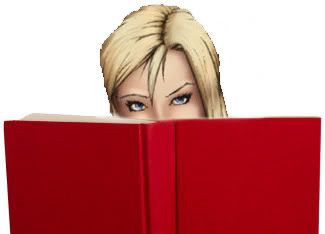 As several of our astute readers picked up on, I have a problem. Hello, my name is Meadow, and I read Rob Porn. I mean, um, FanFics. I am no stranger to the world of fanfics but abstained from Twilight ones until recently. I was willing to wait for Stephenie Meyer to finish Midnight Sun before delving into other people's interpretations of her stories. I don't know if you've noticed, though... SM is taking A GAGILLION YEARS to get her bum in gear and write it, and RP IS CRAZY HOT. These two factors led me to the worst possible of fanfics: One that's about Rob and NOT Edward. Ick! The shame! The horror! A fictional story about a REAL PERSON? *hanging head in shame* (It's AMAZINGLY hot.) I'm gonna go read it again while the rest of the league tells you why they're still willing to be my friend.
Fan fiction isn't my thing, but I have no judgment against those who love it. I mean, Meadow, you're a freak.
Meadow! You are still reading Rob-porn? All this time I thought we were friends... great friends, even. You think you know someone and then you find out she doesn't share. Link, please?
And, uh, I thought you gave up your Rob porn addiction. How many days clean were you before you relapsed?
Go easy on her Ginger... it's really all Stephenie Meyer's fault. I mean what do you expect to happen after Isle Esme's literary "fade to black" and then a still incomplete Midnight Sun? Oh, and Rob's hot.
Meadow knows I love her, Rob-porn addiction or not. And yes, Stephenie is partly to blame. Meadow, get yourself some help, woman, but by all means, send Stephenie the bill.
Meadow did send me the link and I read for a bit, it was interesting and so much so that I felt disgusted w/myself and had to stop. But I wouldn't mind if you happened to accidently send the link to me again! :) Perhaps I'm not the resident slut amoung us after all!
Um, yeah, that would be me.
Spider, the fact that I am addicted to RobPorn does not make me a slut! The things that I'd do with/to Rob Pattinson if I ever got him alone, now THAT makes me kinda a slut. I'm really okay with that.
And for those who are curious and want to read a story about Some Guy Named Rob Pattinson Who Just Happens To Have Starred In A Movie Named Twilight In An Alternate Universe And is NOT AT ALL A Real Person, it's called "I Love LA" by mmm_feathers on twilighted.net. I think it really IS supposed to be about RP but I tell myself it's not. It's what gets me through to the amazingly detailed sex scenes. You know, if you're into that.