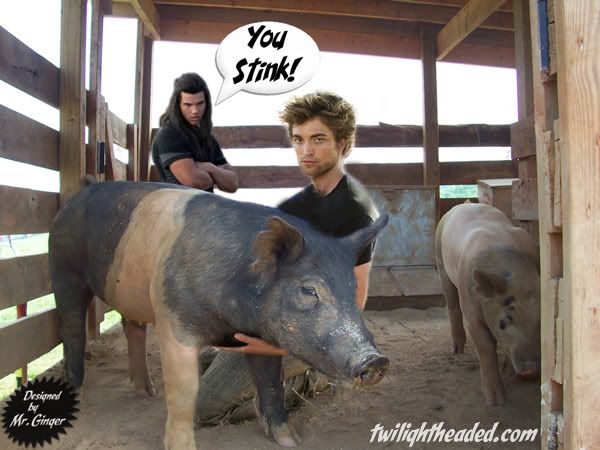 E! Online is "reporting" that cast and crew is complaining on the New Moon set about Rob Pattinson's lack of hygiene. Smells like old news... or is that smell really our dirty boy?
That's my kind of guy.... let's lay around in bed all day and eat Dorito's and Hot Pockets... Every now and again we'll light up and crack a beer. All the while watching Pink Panther movies. It's kismet!







I'm hoping that this is purely gossip. Because if that's true... I'm switching to Team Jasper. I know, I know. You've heard it all before. But for real... can't handle body odor. Personal hygiene is our friend, Rob.
As if you could out run me. As if you could fight me off.
But, my dear, everything about me designed to draw him in, my face, my voice (ha), even my smell, it's all part of the illusion... I am the world's most dangerous cougar. I've never wanted any man's body more than I've ever wanted his in my life.







Aw, c'mon gals. He's young. Obviously he just doesn't have enough incentive to shower. I have a loofa, scented body wash, and a steam shower waiting to show him the light. Of course I'll do all the hard work, all he'll have to do is stand still. At least until it's my turn...