Ok, guys, according to Robert Pattinson Life, this picture was taken on February 6th in London. That's this past Friday! Look at the serious hair growth progress. I think it's very close to what it was in the Twilight movie, don't you? In case you need a reminder (which I'm sure you don't) here is his hair in the Twilight movie:



First can Spank address his clothes? I mean where is Alice when you need her. It's just all kinds of wrong, though I appreciate the tight pants. Okay, moving on: what brought us here today is the hair. I have to say that something is just not right. It's.... too...
clean
. I think a few days with Spank will get him right and dirty. Then I'll work on his hair...


It looks close, but I'd have to run my fingers through it to be sure. Maybe Summit will fly me out there to check on the progress... In the meantime, here's another picture from this same event:


What's up with the two guys he's hanging with? Is it hair-peer-pressure? Does the guy in the middle REALLY have a 1980's era blow-out or is his hair just REALLY HAPPY to see Rob Pattinson?
What if that's Edward's hair double...?!?!?!!!
Is it just me or does RP look bored in these pictures and a little more round than usual in the face!?! My educated guess for possible weight gain is that he's stuffing his face non-stop because he knows once he's on location filming the constant nausea will make him lose weight. Ya'll know what brings on the nausea, "her." As for his hair, it's freaking me out how fast it seems to be growing. Do you think Summit teamed up with Joseph Enterprises (makers of the Chia Pet) to develope special RP colored Chia hair?
Spider I think you might be on to something. We should definitely look into some sort of Summit/Chia Pet Hair conspiracy. I mean, that's just not normal. Maybe he IS some sort of vampire. He is in my dreams, anyway.
Maybe Happy Hair Guy
is
the Chia Pet. He's some sort of bionic hair-donor. That's the only possible explanation for why he thought looking like Uncle Jesse from Full House was a good idea. (See??)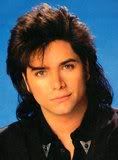 Rob is
totally
laughing because that style stopped getting chicks excited around 1995.