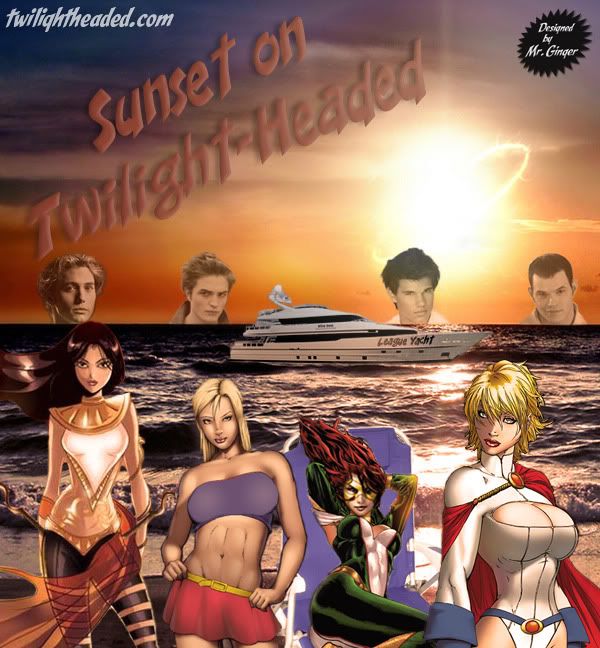 Name: Twilightish
Power: The power to fangirl on a daily basis in front of perfectly normal people I work with and not feel ashamed of doing it.



Okay, so the Junior League post on Twitrovesies got me thinking about how Twilight has changed me this past year. It has been almost exactly a year that I became a TwiFan and I remember this being one of the first Twi-blogs I started following and I couldn't help but notice that you girls have changed quite a bit too as far as your preferences go.

For example, I remember ALL of you being all about Robert Pattinson and some of you not really liking Kristen Stewart, but now things seem more balanced. Most off you have switched to different teams (Team Jacob, Team Kellan), have ventured deeper into different hobbies (Twitter, Role Play, Fanfiction) and some have even embraced the Rob/Kristen relationship and even Kristen herself (myself included).

I thought it would be fun to go back and think how we all started as TwiFans and how we may or may not have changed. Are you the same TwiFan that you were a year ago?
~~~~~~~~~~~~~~~~~~~~~~~~~~~~~~~~~~~~~~~~~~~~~~


sidebra: Should this be the post where we announce that Christmas Eve is our last?


sidebra with red & green tassels: I don't know. Maybe - it might be more honest that way instead of a surprise on Christmas Eve. Thoughts?
sidebra with jingle bells: I think it's the perfect platform for announcing our ending.

sidebra with mistletoe and holly: OMH, I am gonna lose it... I need another beer... *sobs*


sidebra with flashing christmas lights for nipples: **hands Spank another beer** Spank, you're bringing tears to my eyes.

sidebra with two eyes made out of coal: I am really going to f*cking miss these sidebras. I think they should be extended to Twitter.
sidebra with two turtle doves: I agree.

~~~~~~~~~~~~~~~~~~~~~~~~~~~~~~~~~~~~~~~~~~~~~~

I am nowhere near the same TwiFan I was a year ago. A year ago I was infatuated with the story and the idea of a love that never seemed real to me. A year ago I was also introverted, shy and anxious in my daily activities with people. A year later and I realized that Twilight "is my life now." By that I mean through this book series and putting myself out there each day for the past year I have found the most amazing friends a girl could ask for - who enrich my life daily with a shared humor and appreciation for the random, quirky side of life. I realized that I deserve a storybook love and found the strength to stand on my own and not settle. And finally through the Twiworld I found that special someone who I always believed either did not exist or surely I did not deserve. ME! In sum, I came into my own this past year and Spank, a character created for The League, ultimately became a slightly exaggerated representation of the person hiding inside of me for so long. And it has felt so good to let her be free.

A year ago I was re-reading the Twilight Saga again and again. What started as an obsession turned into being a part of a community where I have made so many great friends, many of whom I've met in real life, some of which will be lifelong friends. I have had a great time, laughed so much I cried, and loved so much it hurt. I'm proud of what we've done this past year in Twilight-Headed and the connections we've made. I wouldn't trade this year for anything.


A year ago I was thoroughly infatuated with Twilight, although I had no idea why. (Come on, it's a book about chaste vampires. I mean, really? *grin*) Like many many stay-at-home-moms I longed to discuss something other than diapers and formula. When I found the girls who later became the League, I found something other than laughs. I found that you can connect on a very real level with people who don't live anywhere near you. I found that there is a whole world of people out there who appreciate my sense of humor. I found that I was not the only person completely devastated by Stephenie Meyer's refusal to complete Midnight Sun. But, most importantly, I found an outlet for a passion that I'd thought I had lost: writing. So, while I may not be curing cancer or saving the world, I get to create new ones in my head and share them with you. I wouldn't have had the courage to do that without this blog, these girls who stand beside me, and you - our readers. So thank you. It's been one hell of a year.

A year ago I had read the Twilight saga straight through twice, and was starting on my third time. I will not reveal how many times I had seen the movie (because I lost count) but I was also keeping busy googling "Rob Pattinson" and "Twilight" on a daily basis. And then of course, forwarding what I'd found to all my Twi-hard friends. I have changed a lot in the past year in terms of my preferences (Go Team Kemmett!) and my view of Robsten (awwww). But, the thing I love best about Twilight has not changed - the community. I have loved being a part of this crazy Twi-obsessed world. I've made true, amazing friends in the process and I love meeting new friends based on our mutual obsessions. Basically, I've had a blast this past year with all things Twilight. I would not trade it for the world. Well, maybe for a night with both Rob Pattinson and Kellan Lutz...*thinking*... but probably not.

~~~~~~~~~~~~~~~~~~~~~~~~~~~~~~~~~~~~~~~~~~~~~~
To all our friends and readers, we request the honor of your presence at Twilight-Headed tomorrow for a very special farewell message from The League.