Half The League is inked. A certain Spankpire is due to join the club in a few weeks. A certain fanfic aficionado actually intends on *cough* staying pure. This brought up the topic of Twilight Tattoos. I have to say some
are
okay and I am actually planning on getting a certain Twilight quote tattooed on my wrist in the near future (and, no, I will not tell you what it is until after I do it). But some are so creeptastic they take on a whole new, um, art form (and I use that term loosely).
Please tell me that's an unfinished tattoo. Does she know it's permanent? (this coming from the girl who got a Native American shield with feathers hanging down on her back at age 20 when she has NO INDIAN HERITAGE)
But see you became part of the Quileute Clan when you fell in love with @wolfzjake so that tattoo totally makes sense now *shakes head no*
Sure, if it was a Quileute tattoo instead of a Cherokee one. *hangs head in shame*
*whispers, while patting your tattooed back* It's the thought that counts *still shaking head no*
What about this one?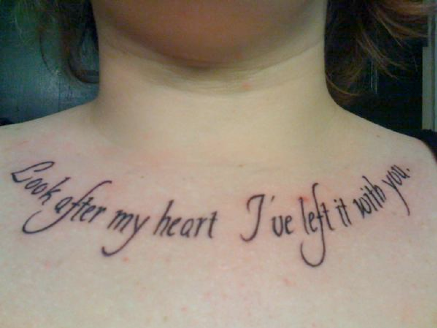 Oh that's classy like a string of pearls. It bet it goes great with a crisp white shirt and a pencil skirt. Or not.
I'm 99.9% certain that Mr. Rain would have me committed if I put anything like that on my body. I'm not gonna lie though - the tattoo that the wolves all have? I think that's hot. Maybe I can talk him into getting one without him realizing what it means?
What, you think that Quileute tattoo looks better than my Indian shield that everyone thinks is a dreamcatcher? Yeah, okay, you're right.
Wait?! What?!!! Rain! You are not switching teams. You may be Team Gaymett but at least he's still a vampire! No. Wolf. Tattoos! *stomps foot!
OH NO YOU DIDN'T - Gaymett? *growls* And no, just for the record, I'm not switching teams, but the wolf tattoo is hot. So is the wolf pack. Or at least Alex Meraz has enough hawt to make them all look good.
Sorry but if the ambiguously gay vampire title fits, wear it.
Clearly you are trying to cover for Jasper's questionable sexual orientation by picking on my BIG STRONG MANLY MAN. Wait, how did we get here again? Weren't we discussing tattoos? *looks around, confused*
Oh yeah, we were. *scratches head* We do that a lot, don't we? *sheepish grin*
It's okay. You wanna hug it out?
*holds out arms* Come to Mama Spank! *hugs you and mouths over your shoulder to Meadow and Ginger* Kemmett is SOOOOOO gay.
*rolling my eyes* ANYWAY, if you two are done hijacking this post, I've found some more tattoos for us to
mock
appreciate:
I mean, really? That Edward looks like Beavis. Or Butthead. I'm not sure which.
*snickers* Edward Cornholio
.
And then there's this one... Because, you know, Edward is real and all.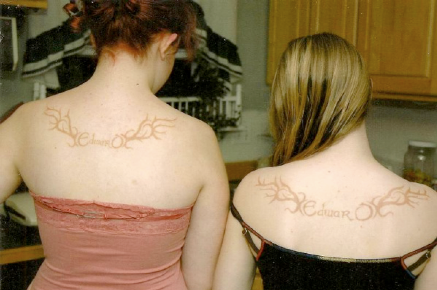 Are those deer antlers?!










They are

so

going to regret that in 15 minutes.
But in the end, Twifans aren't THAT bad. I mean, at least none of them are this guy:
And that, my friends, is why I will remain the tattoo virgin of the group. I prefer my mistakes to haunt me mentally for the rest of my life, not physically. *winks*
But, wait... what about a tattoo of a certain *cough* pixie *cough* squashed under my foot? That would be cool, right?

Right?!
I just got a squished pixie/fairy tattoo yesterday. You can call her Alice if you want.