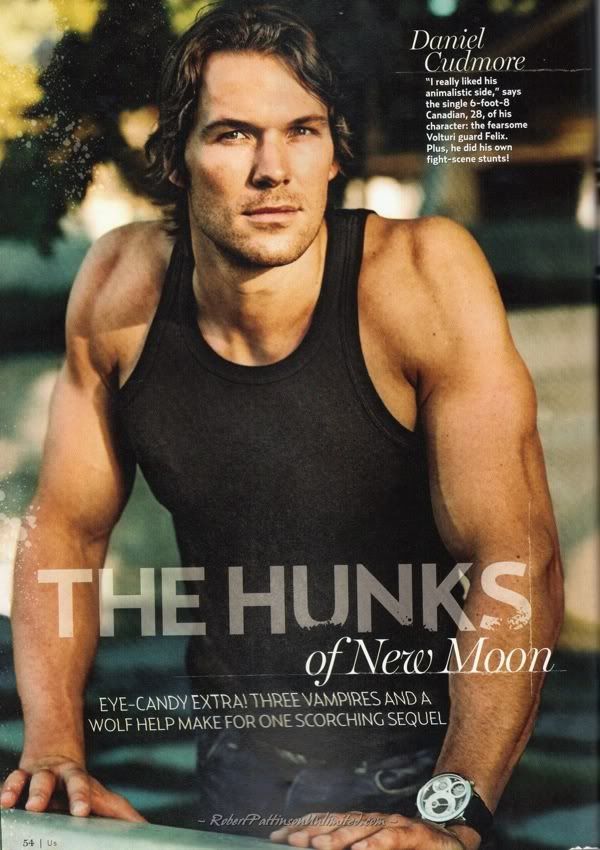 Okay
girls, it's time to leave the uncredited biker behind us *giggle* and move on to another new face for New Moon. Daniel Cudmore will be playing the role of Felix. Now you might think I'd be all over this guy (literally) because he's big and brawny, but... yeah, no. He just doesn't do it for me. I think there is a such a thing as "too beefy."
I don't know... he's cute, but I'm kinda scared he might break me.
Where
was this dude when they were casting The Hulk? He puts Ed Norton to shame.
I am sorry but I cannot say anything negative about @Felix_Guard, even if he does look like he drinks steroids for breakfast. He is a VERY good friend of mine and is also @JasperYourXanax's best man at our wedding.
Mead
ow, Spank drank too much of the Kool-Aid again. Will you please explain to her the difference between @Felix_Guard and Daniel Cudmore? Thanks.
*pat
s Spank's knee comfortingly*








Honey, I'm sure Daniel Cudmore is way to busy working out and then working out some more to tweet. I think @Felix_Guard's feelings will be safe if you comment on this

actor

and his obvious obsession with his "guns."
*tilts head at Meadow and Rain, looking confused*
*sigh
s*










Okay, we may have to move forward with this one without her. Ginger, can you take her up to her room to lie down? Don't forget her Crackberry...
*takes
Spank up to her room to lie down, so I can have @Felix_Guard all to myself*