Okay girls. Listen up. You know how I indulge you all (or just Spank & Ginger) and discuss all those pictures of Taylor and Jackson? Well, I've decided it's time for you to indulge me - I want, no I NEED to discuss this new shot of Kellan. And I'm pretty sure I need to borrow Spank's laminator. Like now.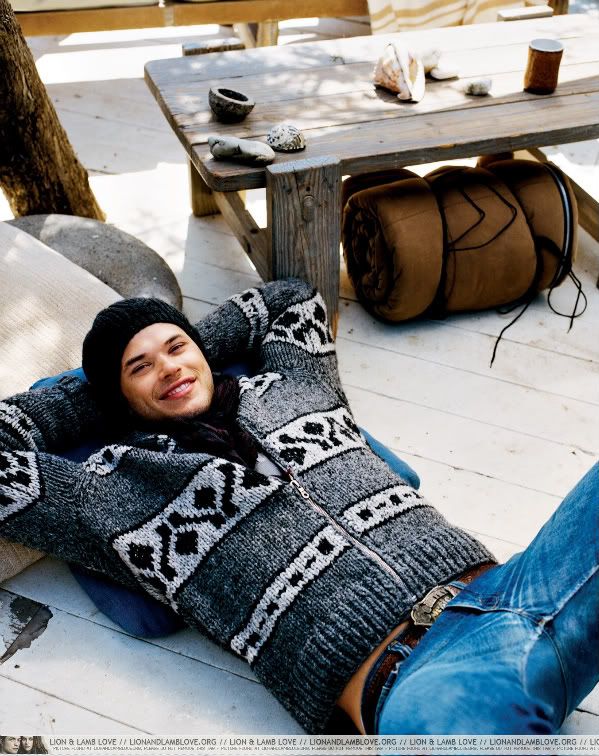 Source: tengossip.com
I don't discriminate against the Cullen boys. Just because I'm Team Robward doesn't mean I'd kick Kellan out of bed. In fact, I kinda want to lick that little sliver of exposed skin in the picture on the floor. And then while I'm down there I could... *shakes self* Umm... You girls discuss. I have to go find Mr. Meadow.
He looks so butch with his gray hit the slopes sweater. Does anyone else think that Kellan is just a
little to well put together?









*glares at Spank* Exactly what are you trying to say, Spank?










Nothing! I bet he gets MANicures. *muffles laughter*
*grinning and out of breath* Okay, I'm back. Now what's this bashing going on? *raising eyebrow* Really, Spank? You're going to pick on RAIN'S mancrush as being light in the loafers? Have you LOOKED at Jackson? The boy is so pretty I'm surprised he doesn't have sleepovers where the girls all get together and braid his hair.
*whispers* Meadow, you know you're my favorite, right?
Hey, I think Kellan is ALL man. And hotter than Hale.
*whispers* Ginger, you know you're my favorite, right?
*rolls eyes at Rain* Jackson does have sleepovers with the girls. He's a giver like that.
A giver of what? Mani-pedis? I bet he brings his favorite OPI polish, "I'm Not Really A Hetero."
OKAY. STOP! I will not let you hijack this post about KELLAN into a Jackson post. I will not.
*mumbles* Fine... *goes back to yesterday's post to drool over Jackson*