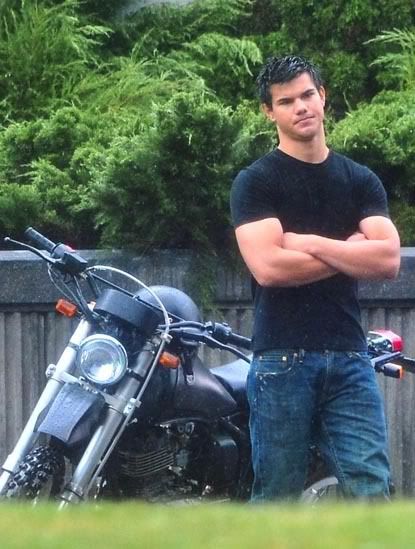 Source: www.radaronline.com
DAMNIT! I don't WANT to like Jacob. I don't WANT to think Taylor Lautner is hot. *stamping feet* And then I see this picture.

UGH! Is Summit trying to rid the world of soccer moms by getting us all thrown in jail for statutory rape?






Meadow, can I tell you? I thought the exact same thing. And then I was hoping it was his stunt double. His 28 year old, single-but-looking-to-date-a-married-woman body double. Sadly, it's not.

I guess it's my turn to get the laminating machine out. 17 has got to be legal in some states right? Arkansas?









You can borrow Spanks laminator.










Hmm... What's the age of consent in Canada?










Sixteen. *hands over your passport*










We still have the League Winnebago, right? Who's up for a road trip to Vancouver?









Who ever set an age anyway? Girls become "women" at menstruation (supposedly to bear children) so why aren't boys men after their first "happy dream"? What?








All I have to say is I did NOT notice the bulge in his pants.










I call shotgun w/popcorn!











I'll drive the van him!