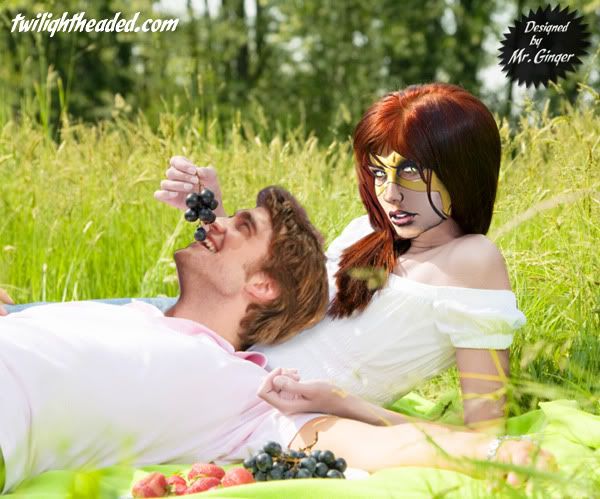 Okay ladies (and possibly a few gents)... we've all had them. Rob or Edward dreams. My most recent one was today, it was real, and it was perfect and pure. I can't share it with you, not because it was sexual in any way. But it was so intimate and I would feel like I was sharing a part of our relationship with the world and that's just not right.
He is after all, all mine -
Snap, ok, I'm awake again. The League thought it might be fun if we and our readers shared some of the more funny types of Rob/Edward dreams. Anything unusual and not X-rated is acceptable!
What's wrong with X rated? If you put those limitation ... *crickets*
Oh I totally would share my Rob dream, but then I'd have to draw a diagram... and it would definitely be NSFW.
Okay, fine, if you girls won't share... I'll admit that I've never had an X-rated Robward dream. *Sigh* But, I have had a few good ones. My favorite was on his birthday. We were at a restaurant and I delivered his birthday dessert to his table. He pulled me down by my wrist to his lap. We spent the rest of the night hanging out drinking beers and eating hot pockets. Okay, maybe not the hot pockets, but I still woke up with a smile.
Alrighty... I'll tell you as much of my dream as I can. Edward walked into the room and looked at me, reached his arm out for me and [censored] me while I was [censored] on him. Then he [censored] and I [censored] and we both [censored]. And then [censored] and [censored] and [censored]. Whew! It was awesome.

Ok, so I'm convinced that I've read the series too many times and have the 'chaste' part of Edward infused into my Rob dreams. I blame Stephenie Meyer for this. Oh sure, we've had some good times in my dreams - some sweet hand-holding, some soft kisses, but it leaves me feeling... well, probably how Bella felt until Isle Esme.
Maybe I need to read more fanfic? Or maybe just call Ginger and get the uncensored version of that dream?
I had a dream too! Rob came into my bedroom, approached my side of the bed. He lay down beside me and scooped me up ... ever so slightly ... just enough so that he could slide his arm underneath me and then we spooned. As we lay there together he whispered into my ear, "Spank, spend the day in bed." I said, "but Rob, I can't. I have SO much to do." To which he replied, "all you have to do is keep this bed warm. I'll be back as soon as I can." Time passes and he returns. He looked as glorious as ever and I smiled at his approach to me. I sighed softly as Rob began to climb into bed beside me once again. And then he stopped... and he said... "Jackson, please can you scoot over and give me some room?"