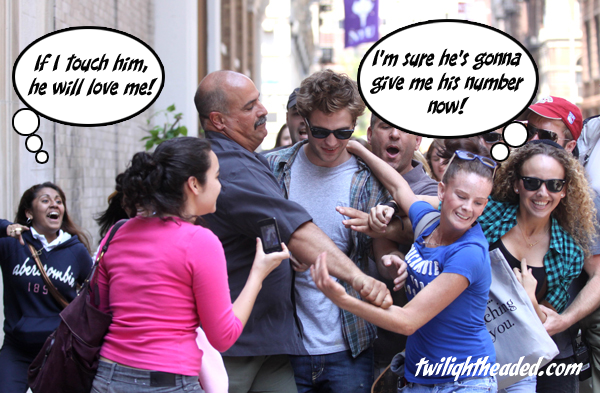 Guys, guys... you're doing it all wrong. This is not the way to get your hands on Rob. What you need to do is lure him (with a trail of hot pockets and beer) into a place where you and your three friends can lock him up and mob him right.
Ginger, I like where you're going with that. But clearly his bodyguards are not up to the task of shielding Rob. Perhaps he should hire, um, I don't know, four superheroines to do the job? We'd protect you Rob. I promise.
I like where you're head's at, Rain. In keeping with that, I think we should probably each take charge of protecting different parts of his body. I call dibs on his hands. I have the perfect hiding place for them...
Spank, I cannot express how disappointed I am in your priorities! You picked hands? HANDS!!! I am speechless!
Rain, when you say he needs our protection, I hope you mean we'd bring protection, not be protection. What size? X-Large? Ribbed? I think it's safe to say that they need not be "lubricated."



What?!

Like it never crossed your filthy mind!