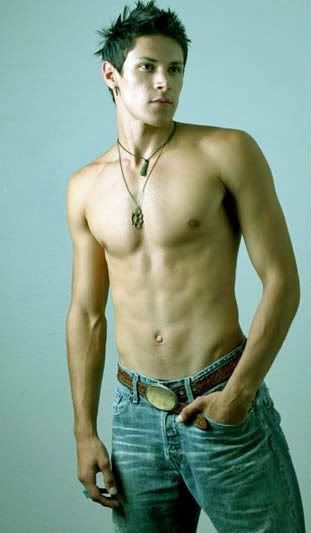 This weeks Jr. League member is: Brenda
Superhero Name: Moonsanity
Super Powers: Ability to sway friends and family into buying her vampire related gifts and reading at super speed.
I know the Twilight-headed gals are Team Edward and hate all things wolf but can you HONESTLY tell me this photo of Alex Meraz who's playing Paul, does not make you feel just a teeny bit warm and furry, I mean fuzzy, all over? Jacob/Taylor is a little young and makes me want to nurture him like a mom, but Alex is married with a kid and I can imagine nurturing him in many other ways that are NOT motherly at all.
ANOTHER shirtless guy pic? Please don't tell me we are turning into an "I want to screw this guy" blog.
What? You mean we're not an "I want to screw this guy" blog?












No, this blog is not an I want to screw THAT guy. Now there are other guys (Cullen, Hale) but, I digress. They are not who we are here to discuss today. "... and let's continue."
His belly button is the only thing I needed to see to make me grossed out. But his thumbs are quite interesting... I could change my mind if he and I were together with a bag over his head and a shirt ON.
Well... I think his features are all symmetrical and he's in good shape. Uh... the problem is that he reminds me of my childhood best friend's younger brother, who I never EVER wanted to do dirty things with. Mostly because he was 11 when I was a senior. Filipe, is that you?
I simply cannot take a man who has no body hair seriously. I would like to know whether he waxes or goes for laser hair removal treatments.
Oh well... I'd have to disagree on the hair issue. I like my men hairless on the chest and back. Hair in other places is ok. *wink* Hairy men turn me off. You know, because when they have a hairy chest, the hair gets caught in your teeth.
Ginger, I don't know why you're clenching your teeth on someone's back and chest when the most important asset is obviously comfortably hairy! Because my mouth and teeth are more concentrated on the those parts. But I don't want to get into the hairy details here.
Ok... your back hair comment just made me throw up in my mouth a little. And I believe I did say I have no problem with hair in other places. *wink*
Well, whaddya know... We turned this into a post about the kind of guy we'd want to screw.