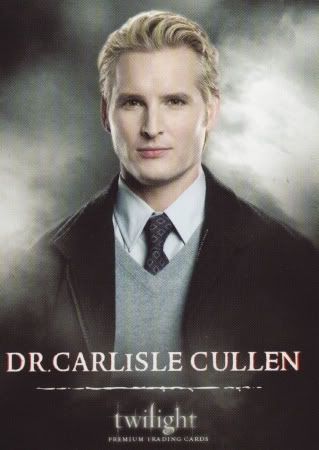 Carlisle was one of my favorite characters in the Twilight series. I don't know where to begin with all the things I love about him, but there are a couple of scenes from the movie that I want to acknowledge. First of all, nobody can make an ER entrance like Dr. Cullen. Every time he pushes that door open I get excited!

But there is something that drives me NUTS! In the film, in the ballet studio when Edward and James are going at it, Carlisle comes in and puts his hand on Edwards shoulder saying, "Son, enough, remember who you are, Bella needs you."
That's so gay because then he has his other children go and rip the guys head of (literally). His daughter no less! I understand that it has nothing to do with Peter Facinelli/Carlisle Cullen. But who the hell made that stupid cal? Was it an editing goof ? Was it Melissa Rosenberg that drank too much vino when she wrote that line? WTF?
Sounds like SOMEONE needs a little Jasprin.