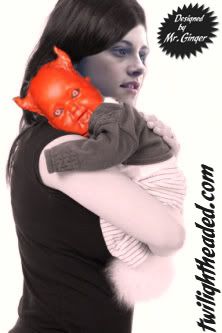 I never gelled with the fact that Edward became a dad, and Renesmee never got one ouce of maternal feelings from me. The explanations of her never made me feel any compassion for her life and the importance of saving "it."
Frankly she creeped me out and I wanted her to die. And Stephenie Meyer just kept writing over and over how mesmerizing she was to anyone who met her. To me she just seemed like an ugly monster and I couldn't stop picturing Kirsten Dunst from Interview With A Vampire. Anyone else with me on this?

Well, it doesn't help that the story is told from Bella's perspective at this point and no one would freakin' let Bella near her. So we didn't exactly get to see what was so enthralling about her. She dreams of colors and butterflies? Big deal. I dream of Edward Cullen.

The main thing that bothers me is I just don't see Edward as a dad. What a pain in the ass would Jr. Piss Ant be in his life. He finally, after 108 years is able to have the most pleasure of his life by being "deflowered" and now has this friggin freak as a distraction. The only consolation is that in seven years she'll be bonking Jacob.
*snicker* Spider! I believe the Stephenie Meyer approved term is "sharing the most magical fade to black known to man."
My issue lies with the fact that these two creatures of the night who never sleep get a kid who sleeps solidly through the night and they have more monster-baby sitters than they will ever need. Where's the justice in that?

I think the thing to realize is this story is in the *fantasy* genre. And what would a married mom of three boys (Stephenie Meyer) want more in this world than a child who sleeps through the night from day 1 and more babysitters than she needs so she can have hot sex with her husband?
Not just any husband Ginger, Edward freaking Cullen!
I don't think it was well thought through... I almost think that Stephenie Meyer kind of jumped the shark and just wanted to do something completely outrageous.... But she should have let Renesmee die if you ask me because what better way to keep the cabin rockin' action going on and what better way to continue the story line (which she obviously didn't want to) to have the ultimate revenge on the Volturi...
She wanted to continue the storyline, but I think she wants to do it with *gag* Jacob.
The last three books in series ends in some field with the Cullens winning a fight that get's way too hyped up and ends up being a let down. Can't someone get a little hurt - like, a little?
I know! At least some maiming or flying limbs... Show of hands, who here wanted an excuse for Dimitri to go up in black-oily-sickly-smelling-smoke?
HELLO! Jacob imprints on an infant monster child... she didn't just jump the shark there, she jumped a school of them. What's worse than even that? She has Emmett pulling for the Florida Gators.
Yeah, Spank. That "Go Gators" part was the most offensive part of the whole Twilight series. Why Stephenie, why? With so many college football teams out there, why did you have to pick the Gators?
*raising eyebrow* Your big complaint out of all of this is the "Go Gators" term? Quit crying like the infant that Renesmee never was and focus on the REAL problem with the storyline: Stephenie Meyer had a chance to carry on the genes of Edward Cullen, the most fabulous specimen on the face of the planet, and she gave us... a daughter. If she'd given us a son we could have lusted after BOTH of them (once he reached maturity, of course.)
Ohhhh - I like where you're headed with that. But can you duplicate perfection?
No, not duplicate, but (dare I say it) maybe even improve upon? I mean, think about it... An Edward who COULD be in sunlight, who you could sleep naked next to and not get frostbite, and who DIDN'T want to kill you and drink your blood. PERFECTION.
"An Edward where I could sleep naked next to and not get frostbite..." Meadow, you are a GENIUS.
Of course I am Ginger. I'm a Gator. *wink*
*groan* And the fact that we still love you despite your Gator status, really shows what unconditional love we League members have for each other.
Oh no, you girls are NOT going to criticize Edward Anthony Cullen on my watch and get away with it. There IS NO improving on my man, none, zilch, nada. Perhaps you girls need to go to the pet store and get some leashes for the dogs who you'll be with before long. Woof!
Thems fighting words, Spider.
Spiders have venom too, you know...