Have you seen this poster for New Moon? It's "fan made" but seriously? How excited does this get you for New Moon? You know, the important parts AFTER all that Bella/Jacob nonsense?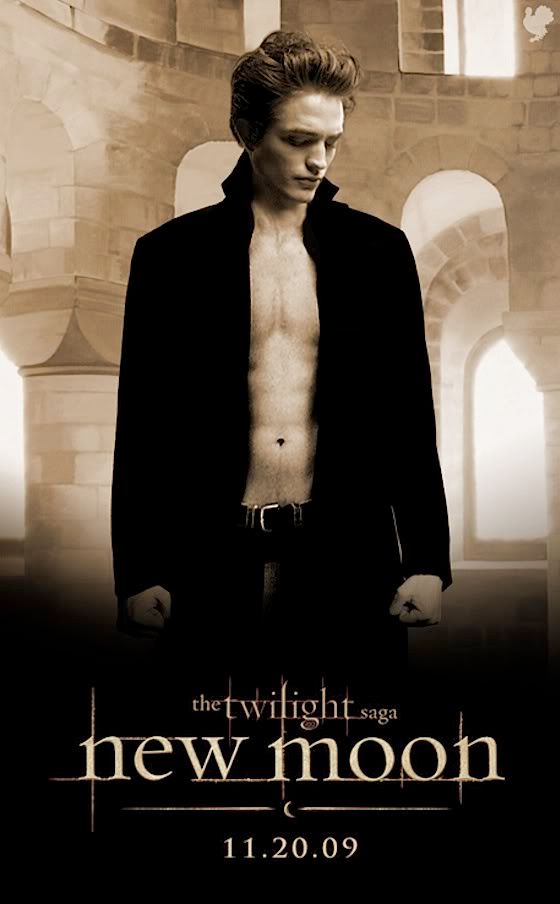 Not that I don't appreciate the fan art, but isn't he supposed to be shirtless when he's about to step into the light? (that's why they have to give him a evil-vamp hooded robe to cover himself up with.) Otherwise he would only have to button his shirt. But I'm not complaining about the photoshopped eye candy.
Photoshopped eye candy is just as good (no better) than the eye candy that ravages me in my dreams almost every night. In fact, I think I need to take some Tylenol PM - it seems I have a date with a very intense looking vampire in Italy tonight.
My heart rate is so elevated that my head is going to explode. Can you just imagine how over populated the world would be if all men were created equal, as in Edward equal. Bobbybumps all over....
Well, I googled "Rob Pattinson Shirtless" (in the name of journalism, of course) and was sad to discover that there are no recent shirtless pictures of him. The only pictures I found were the horrid not-yet-legal ones with the scarf. Which means I saw them again. Which means that I need to go scrub my eyeballs.
Oh you mean this vintage Rob picture?
(sorry)
Just picture it as our edited version and you should be fine.

See? That makes it ALL better. If that doesn't work, go stare at the Robapalooza for a while.