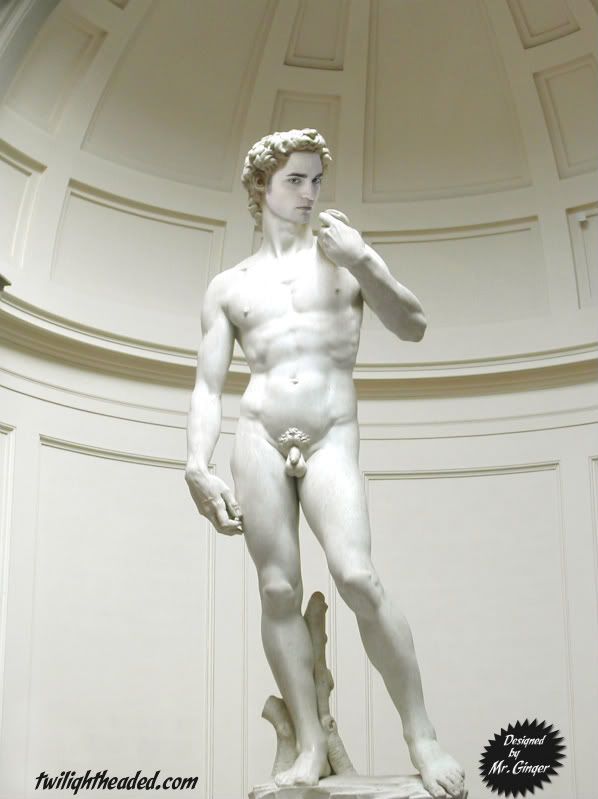 In an interview where Rob's New Moon salary was discussed he disputed reports that he was to be paid $12 million by saying, "If I'm getting paid $12m a movie I'd walk around naked."
We should totally start a fundraiser and take up a collection to have our own personal naked Rob. Even in these tough economic times I know we can all agree that this is a worthy (and VERY necessary) financial sacrifice.
I don't think I'd want to see EC/RP naked. Really. It would kill the dream in my mind. Alright, I can't write that without smiling. Who am I kidding?? And he has the cutest bubble butt - I love that about him.
I knew you had to be joking, Spider. Not only would I pay good money to see that, I'd take a screenshot of it and make it the desktop background for my computer. You don't think Mr. Ginger would mind, do you?

I'd totally contribute to that fund. How about a "RP lounges around naked by my pool" fund? That way he doesn't have to worry about getting pneumonia walking around London naked.
I'll bring the suntan lotion.
**Photo courtesy Mr. Ginger and his mad photoshop skills**