Okay so many of you thought I was delusional when I (and others) suggested that this was the same hat: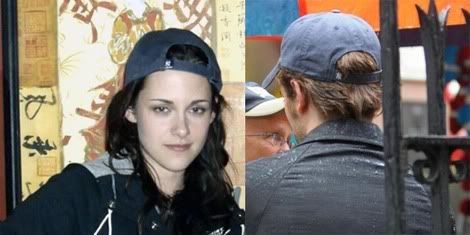 Well, how about we get the truth from the source herself. Starting at 0:31. Kristen looks at Rob and says "you're wearing my hat!" and playfully punches him.






Now that we have that out of the way, anyone want to speculate on the absolute awkwardness between Rob and Nikki?
What do we need to speculate about? Rob has clearly moved on when Nikki hasn't.

And very good detective work, Spank, for the Robsten hat. *bowing down to your awesomeness*

I wish Summit would just let them come out about it already! Why all the secrecy? I think they'd both look less strung stressed out if they were allowed to let their feelings show. Besides, it would make Spank the happiest superheroine ever! *ducking from Spider*

For crying out loud, not this again? Spank, I will publicly humiliate myself and kiss your ass for ALL of eternity if you can give me this one piece of actual proof that would put this whole issue to bed for me. I remember seeing a picture of him wearing that hat and thinking it was kinda lame that he never removed the little round "official MLB" sticker from the underside of the lid. So, you show me that little sticker on Kristen Stewart's hat and I will never deny Robsten again! Go Nonsten!
It is so flippin' obvious that they are together. I think it's awesome. They are cute, single and gorgeous. Also they seem to really make each other laugh, smile and have a great ease with one another. They are together.
I have said my peace! Robsten!
I'm going to throw up - who are you? What did you do to that girl I fell in love with? All those words up above, the defensiveness, the "tude". It's because you can't handle the truth! And you cannot find my proof.
So sad...
Spider, I think it's time to accept the truth. Robsten IS. They share tees and now hats - there's just no denying it anymore.
The girl you fell in love with is still here. She just has her eyes wide open.

I give you proof over and over and you refute it. No matter what: the same shirts, the hat, the eye sex, the morning after the MTV Movie Awards, them texting each other during the Comic Con Panel...

I suspect that I could present a sex tape and you would just say it was their body doubles. Which makes me wonder, do you think when they are finished with their lovemaking Rob whispers "you are my life now..." in Kristen's ear?
What the...?! Seriously, Spank, did you EVER make love when you were nineteen?
Rob is 23! The man sings beautifully folksy and tormented love songs.... he strums his guitar with those long fingers stroking the chords and he massages the piano keys, tickling them ever so lightly ... Yeah, Rob knows ALL about the art lovemaking and he's schooling Kristen like a good teacher would.